10'8 Activ MSL Inflatable Yoga Paddle Board
Designed specifically for yoga, pilates and fitness fans
Sale price

$1,499.00

Regular price

Out of Stock

Our retailers are getting frequent deliveries so please contact your local Red stockist as they'll be able to advise on delivery dates.
Tax included.
translation missing: en.products.product.in_stock
translation missing: en.products.product.out_of_stock
Expected delivery 1 - 2 weeks
| | | |
| --- | --- | --- |
| | Max Rider Weight | 240lbs+ |
| | Rider Style | Yoga |
| | Min Experience | Beginner |
Relax, de-stress and enjoy the incredible benefits of practising yoga on this special board....
Relax, de-stress and enjoy the incredible benefits of practising yoga on this special board. People have always flocked to the water for its tranquillity. Early on, we discovered people were taking their Red Paddle Co inflatable SUPs to the water for yoga, pilates and stretching, so we created a yoga paddle board specifically for them.
It is called the 10'8 Activ, and is based on our 10'8 Ride, but with increased thickness to reduce wash over the board so you can stay dry during your workout.The additional thickness provides greater rigidity and the 34" width provides a stable platform, making the board perfect for yoga poses.
The carry handles have been moved to the side of the board so they don't get in the way. The final touch is the Red embossed EVA deck, which acts as a full yoga pad with a centre line down the middle of the board to help you position yourself and stay balanced. It's great for paddling too, so you can go to a perfect spot and relax properly, and with our industry leading Titan pump supplied as standard you can inflate your board without breaking a sweat ahead of your session on the water. Ergonomic tubular handles on all boards to give a cushioned, comfy grip when carrying your board.
NEW ATB Transformer Bag - Introducing a total redesign of our all terrain backpack that offers a bagless carry system. This skeleton system means you can access more remote waterways without the need for a bulky bag and just take the straps and your pump.
When using the bag, large all terrain wheels make handling rugged terrain a breeze and considered anthropometric design is able to be fully customised to your height so you can take maximum care of your body while under load. Large exterior pockets can fit any quick to grab essentials and velcro interior pocket means your paddle blade is safe and secure.
The interior material has a stylish Red repeater pattern and its water resistance will minimise any intrusive damp. Additional internal storage for small items and keeping your service kit on hand.

Read less

5 Year Warranty
All our 2022 boards come with a 5 year warranty on registration

Free Delivery
For any orders over $150 in value, you'll recieve free next working day delivery
EVERYTHING YOU NEED TO GET STARTED
ATB Transformer Board Bag
Introducing a complete redesign of our bestselling inflatable SUP backpack. Highly engineered adjustable ergonomic support means that the ATB Bag now offers exceptional levels of support for your shoulders and back. Exterior straps mean that the bag can be compressed making it more comfortable and a pleasure to carry. It's now easier to pack away your paddle with an interior paddle blade pocket and a velcro securing system so your paddle is safe and secure while on the move. A large outer zip pocket means any essentials can be packed securely away and easily accessible.
Our revolutionary bag-less carry system has been designed with all paddleboarders in mind. For the adventurers, you can now go further and access more remote waterways without the need of a heavy bulky bag. Perfect for families, it's now easier, quicker and more convenient to pack up your kit after a long day at the beach.
More Information
Titan II SUP Pump
The Titan II Pump is the world's first purpose-built, double chamber SUP pump. It's designed to cut the amount of time and effort it takes to inflate your board by half. Constant innovation has led to us testing the absolute boundaries of inflation technology and as such, we're confident that there's nothing quite like the Titan II pump on the market.

The Dual Cylinder system, combined with the Hi Flo handle means you are in complete control of the energy used to inflate your board. It puts the volume into your board faster and reduces the effort required to reach a higher pressure.
More Information
Twin iFin
All boards in the Ride range are now integrated with two super durable, flexible iFins, making the boards straighter and faster to paddle than a three fin set-up. The iFins also provide increased agility and performance in the surf and make the board easier to pack down into its bag. No need for tools, spares or replacements, the iFins can take a beating and are super easy to reshape if they get bent.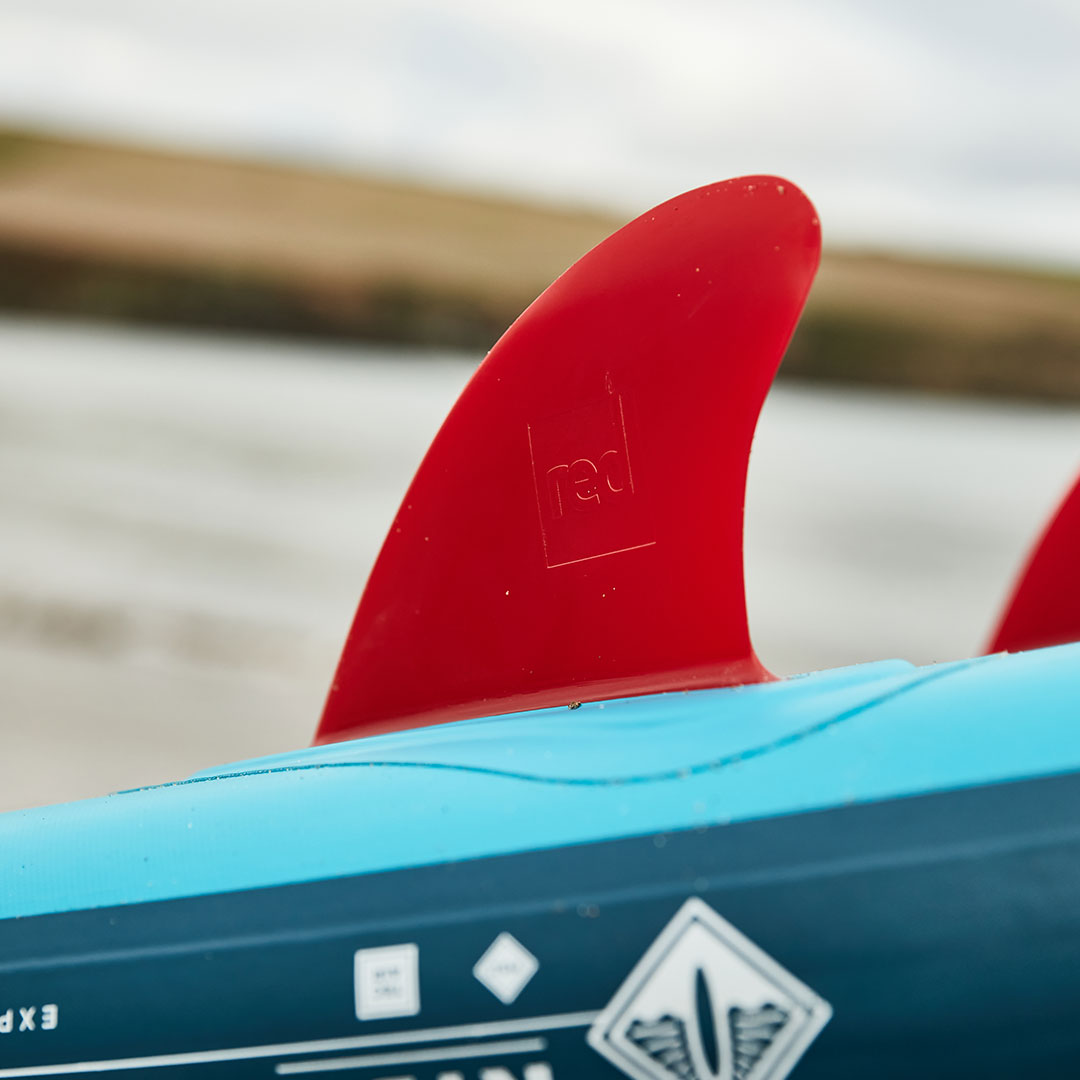 Compare
| | | | |
| --- | --- | --- | --- |
| | 10'8 Activ MSL Inflatable Yoga Paddle Board | 10'8″ Ride MSL Inflatable Paddle Board | 10'6″ Ride Purple MSL Inflatable Paddle Board |
| Board Length | 10'8″ | 10'8″ | 10'6″ |
| Board Thickness | 5.90" / 150mm | 4.7" / 120mm | 4.7" / 120mm |
| Board Volume | 333 Litres | 270 Litres | 245 Litres |
| Board Weight | 11.9kg / 24.2lb | 11.3kg / 23.1lb | 11.1kg / 21.89lb |
| Board Width | 34" / 864mm | 34" / 864mm | 32" / 813mm |
| Bag Size | 1020mm (h) x 380mm (w) x 410mm (d) | 980mm (h) x 380mm (w) x 360mm (d) | 980mm (h) x 380mm (w) x 360mm (d) |
| Bag Volume | 160 litres | 134 litres | 134 litres |
| Fins | Moulded Twin iFin System | Moulded Twin iFin System | Moulded Twin iFin System |
| Paddle Options | Hybrid Tough, Prime | Hybrid Tough, Prime | Hybrid Tough, Prime |