Pact Technology
11'0" Compact MSL Pact Inflatable Paddle Board
The second addition to the Compact family, the 11'0 Compact is a full-sized touring SUP that packs down to half the size of a conventional inflatable paddle board.
Sale price

$2,099.00

Regular price

Out of Stock

Our retailers are getting frequent deliveries so please contact your local Red stockist as they'll be able to advise on delivery dates.
Tax included.
translation missing: en.products.product.in_stock
translation missing: en.products.product.out_of_stock
| | | |
| --- | --- | --- |
| | Max Rider Weight | 240lbs |
| | Rider Style | All Round |
| | Min Experience | Beginner |
Full of practical features and innovations, this board is an ideal match for paddlers who regularly travel with their board or want to adventure further...
Full of practical features and innovations, this board is an ideal match for paddlers who regularly travel with their board or want to adventure further with the convenience of an all-in-one package.
A new look for our flagship Compact range, with a soft grey and cyan drop stitch and a new split deckpad. This allows for water to run off more effectively and improves the 'packability' of the board. It allows the board to fold on the hinge, make it easier to fold and roll.
The increased length makes this board perfect for longer paddling adventures and paddlers travelling the world with their SUP. Designed with a more drawn out shape to increase glide, the 11'0 Compact is ideal for paddlers who want to travel and explore without limitation.
The board has a quad stringer tensioning system, giving maximum rigidity, while the central living hinge means the board can be folded and rolled into a super small package, making it the most transportable adventure SUP on the market.
Based on the ever-popular Red Paddle Co 11'0 Sport MSL, this board provides the perfect blend of stability and manoeuvrability. Its extended length offers a fantastic step up from an all-rounder, while also catering for slightly heavier riders. The ergonomic tubular handles on the Compact gives a cushioned, comfy grip when carrying your board.
NEW! Adjustable Cargo System
Now with a new and improved cargo system made up of three adjustable bungee straps. The bottom two straps are closer together, making it easier to store smaller kit items. A twin d-ring locking system allows easy adjustment and release and the small loop is ideal for water bottle storage. A reinforced cargo point so you can strap on enough cargo for any adventure.
Read less

5 Year Warranty
All our 2022 boards come with a 5 year warranty, activated when you register your board.

Free Delivery On Orders Over $100
For any orders over $100 in value, you'll receive free delivery which will be with you in 2-5 working days.

Hassle-Free Returns
You can return your items within 30 days of placing your order. Equipment should be un-used and with its original packaging and / or labelling intact and attached to the product. Items which don't have the labelling attached to the product will incur a 10% reconditioning charge which we will notify you after inspection of your return.
If we do not hear back from you within 4 days of contact we will return the items to you. All items are inspected before a refund is processed. Items deemed to be in a poor condition will be returned to you. If any item returned breaches any of the terms outlined in this policy, we reserve the right to return the item back to you in the same condition it was received in.
EVERYTHING YOU NEED TO GET STARTED
Backpack
Pump
Paddle
Leash
Fins
Compact Backpack (available with 9'6 and 11'0 Compact)
THE COMPACT backpack is highly engineered to offer unique levels of adjustability and comfort, plus incredible shoulder and back support.
We think it's the most highly engineered SUP bag on the planet, and as it applies approximately 53% less downforce on the carrier's lower back, you can travel for longer in comfort. With customisable lumbar support and adjustable height features, it's suitable for almost any size of paddler. And it doesn't stop there:
All these combine to make it a pleasure to carry, whether you're on a short walk to the water or off on an epic adventure.

Dimensions: Height: 560mm | Width: 420mm | Depth: 320mm
More Information
Titan II SUP Pump
The Titan II Pump is the world's first purpose-built, double chamber SUP pump. It's designed to cut the amount of time and effort it takes to inflate your board by half. Constant innovation has led to us testing the absolute boundaries of inflation technology and as such, we're confident that there's nothing quite like the Titan II pump on the market.

The Dual Cylinder system, combined with the Hi Flo handle means you are in complete control of the energy used to inflate your board. It puts the volume into your board faster and reduces the effort required to reach a higher pressure.
More Information
5 Piece Carbon Nylon Adjustable SUP Paddle
Creating a compact paddle was not an easy task, but we have found the perfect solution: a five piece paddle.
As a result, it packs away perfectly, but it is still adjustable with no compromise on the water.
MATERIAL
Made of high-modulus carbon for extra rigidity, with a durable pure nylon blade.
ECO
The Nylon blade of the paddle is laser etched, with no printing, chemicals or transfers and produced with a single pure material. Meaning the design will stay on forever, resulting in no aesthetic implications.
ASSEMBLY
Our new anti-twist adjustment system with 45 degree cut push-pin technology has resulted in our most compact paddle yet.
More Information
8ft Coiled SUP Leash
This has been designed for flat water paddlers and racers who want to make sure they are not getting any excess drag from their leash being in the water.

The leash features a interchangeable ankle or calf cuff with a quick release loop and integrated key pouch. It has a 7mm dual cord coiled leash which prevents the leash from dragging in the water plus dual pivot points to reduce twist. The leash is supplied with a length of rope so you can use with tradition leash points or can attach directly to our leash points which you can find at the back of any Red Paddle Co board.
Click Fins
They use a simple click fin system with a secondary screw for added security. The two off set fin boxes themselves are also compatible with standard FCS fins, so you can customise the feel of your board on the water.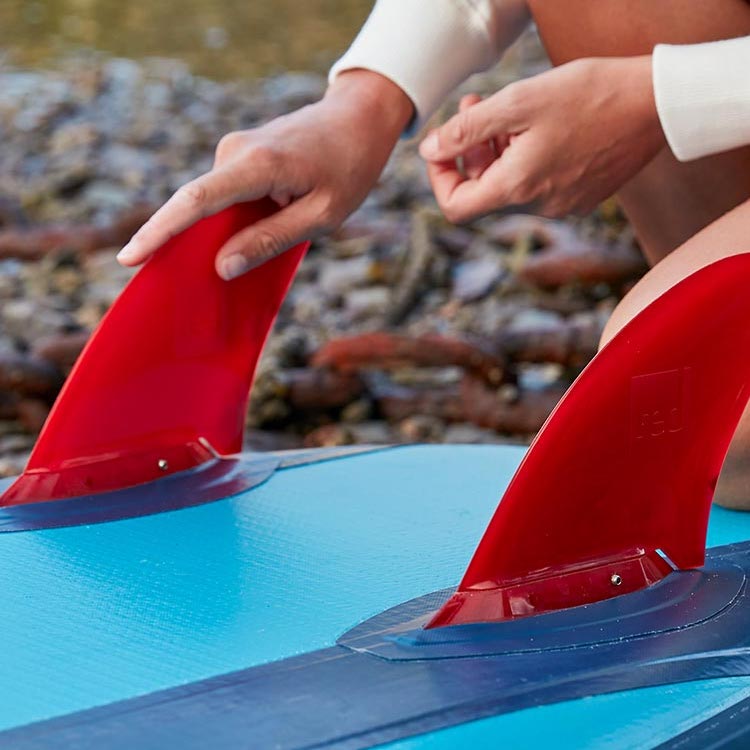 Compare
| | | | | | |
| --- | --- | --- | --- | --- | --- |
| | 11'0" Compact MSL Pact Inflatable Paddle Board | 9'6" Compact MSL Pact Inflatable Paddle Board | 12'0" Compact MSL Pact Inflatable Paddle Board | 11'0" Sport MSL Inflatable Paddle Board | 11'3" Sport MSL Inflatable Paddle Board |
| Board Length | 11'0" | 9'6" | 12'0" | 11'0″ | 11'3″ |
| Board Thickness | 4.7" / 120mm | 4.7" / 120mm | 4.7" / 120mm | 4.7" / 120mm | 4.7" / 120mm |
| Board Volume | 259 litres | 222 litres | 302 Litres | 234 Litres | 258 Litres |
| Board Weight | 9.05kgs | 7.25kgs / 15.98lbs | 10.15kg | 10.45kg / 21.34lb | 11.3kg / 24.91lb |
| Board Width | 32" | 32" / 813mm | 32"/813mm | 30" / 762mm | 32" / 813mm |
| Bag Size | 560mm (h) x 420mm (w) x 320 (d) | 560mm (h) x 420mm (w) x 320mm (d) | 600mm (h) x 420mm (w) x 360mm (d) | 980mm (h) x 380mm (w) x 360mm (d) | 980mm (h) x 380mm (w) x 360mm (d) |
| Bag Volume | 75 Litres | 75 litres | 90 Litres | 134 Litres | 134 Litres |
| Fins | Twin Click Fin | Twin Click Fins | Twin Click Fin | Removable Red US Box Fin | Removable US Box Touring Fin |
| Paddle Options | 5 Piece Paddle | 5 Piece Paddle | 5 Piece Paddle | Hybrid Tough, Prime | Hybrid Tough, Prime |
11'0" Compact MSL Pact Inflatable Paddle Board
Size Chart
Calculate My Size
Please select your height