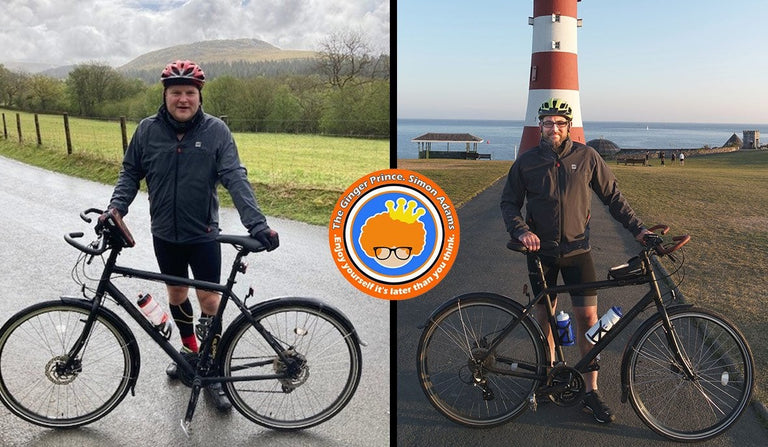 Return to blog
Father Abraham's Tour de Prem
Stories
Posted by Luke Green
Simon Adams was diagnosed with Motor Neurone Disease in 2009, within the first week he had set up a bucket list. One of Simon's aims was to raise not just awareness of MND, but also £1Million to help fund vital research, so that in the not too distance future the words "you have Motor Neurone Disease" will be followed by the phase "it is curable".
To mark the 10 years since Simon's passing, Matt Price and Mark Beresford-Ward are aiming to raise £15,000 towards the £1,000,000 target (which is currently at £565,000) by and completing a north to south cycle ride visiting each Premiership Rugby Club on their way back to Plymouth. Across 12 days they will cover approx. 850 miles by bike, visiting rugby 16 clubs along the way.
We caught up with the dynamic duo before they set off on their mammoth ride to see how the training had been going and find out a little more about the challenge. For more information and to follow their journey visit their website https://www.tourdeprem.com/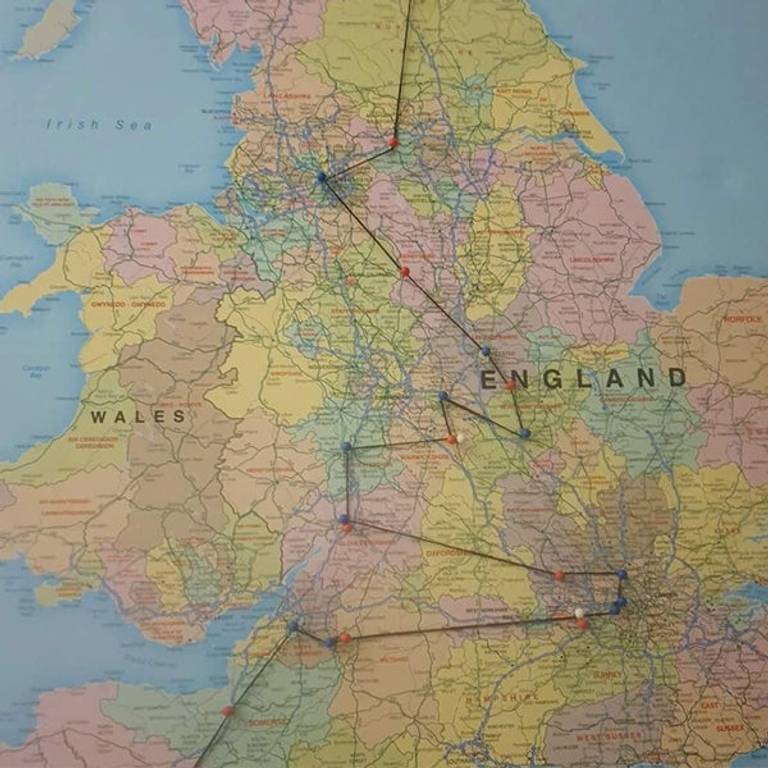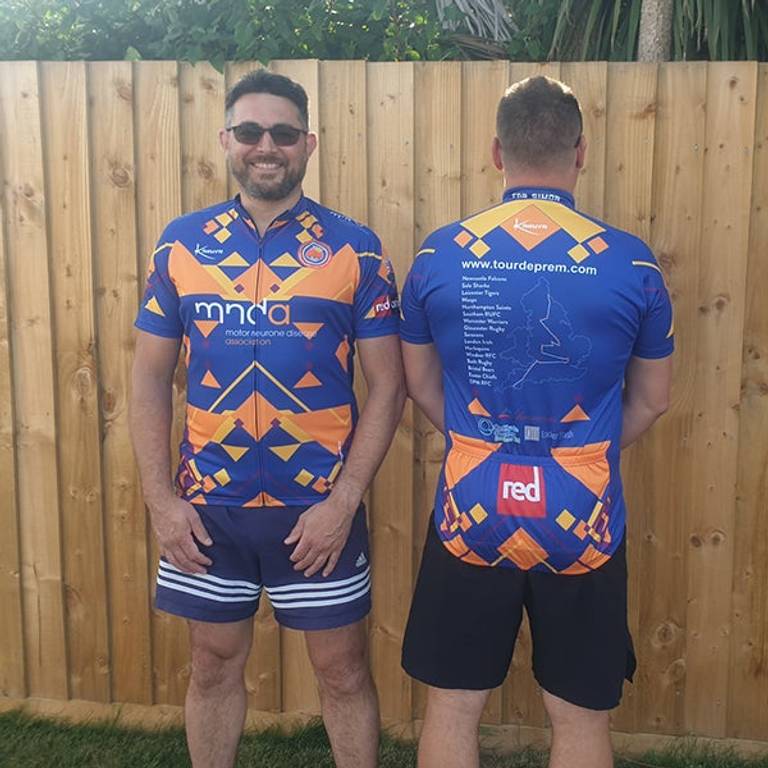 What a great way to carry on Simon's bucket list to raise £1 million to help fund vital research for Motor Neurone Disease. Tell us a little about the various events friends and families have taken part in to help reach that goal over the past 10 years?
When the news first emerged that Simon had been diagnosed with MND and that raising a million pounds was at the top of his bucket list, his friends and family started doing as much as they could to help Simon towards his target. Over the past 10 years, events have ranged from half marathons, London marathons, trekking the 3 peaks, sponsored swims, walking the great wall of china, charity cricket matches, climbing Mount Kilimanjaro, gala balls, rugby tournaments and auctions just to name a few.
Tell us a little about MND and how the money raised will be helping the research?
Motor Neurone Disease (MND) is a condition that affects the nerves called motor neurones in the brain and spinal cord. It causes the muscles in your body to weaken, stiffen and waste away, and gets worse over time. MND can affect how an individual walks, talks, eats, drinks and breaths. Unfortunately, MND is life shortening and although symptoms can be managed, the diagnosis is terminal and sadly, currently there is no cure.
The money that we are raising we will be helping MNDA (Motor Neurone Disease Association) continue to fund vital research into finding a cure for MND. Over the past few years, researchers have made some large breakthroughs and hopefully with the continued support and funds, in Simon's words, "in the not to distance future the words 'you have Motor Neurone Disease' will be followed by 'don't worry, it is curable'".
Guys this is quite a challenge you've set out for yourselves. How did this come about?
This is one of Matt's mad ideas! We like to push ourselves out of our comfort zones when doing challenges and this time it's putting two rugby players on bikes to tour the UK via Premiership Rugby Clubs. Matt had the initial idea of a cycle tour, but rather than be conventional and complete Lands' End – John O'Groats, we thought we would include our love for rugby and visit all the Premiership clubs along the way. We are also visiting the three clubs that Simon was a member of too.
And the visiting rugby clubs?
The Premiership clubs have been fantastic, their support towards the ride has been brilliant. With MND sadly being so prevalent within the rugby community, the clubs have really gone above and beyond to support our ride. They have been so receptive and supportive, and we are really looking forward to spending time with them at their grounds. We have a signed shirt from each club which we will be raffling off at the end of the ride to try and raise even more funds which we hope will give a great boost to the total.
How has training been going throughout lockdown and juggling day to day life?
Training through lockdown was hard especially not being able to meet up to cycle together due to travel restrictions. Plus, all the coffee shops and pubs were shut and that is one of the major things we do look forward to! However, we did manage to fit in training alongside work and once you get into a routine you miss the days when you don't get on your bike.
What's the motivation for you both? It's a long endurance ride with 12 days of back-to-back riding what will keep you going?
First and foremost, I think it's each other. Neither of us wants to let the other one down, so that's motivation in itself. The other huge factor is of course raising money towards Simon's £1 million target. The more we raise the more it drives us to train harder and ultimately will push us to ride harder once we set off. I guess also it is visiting all the Premiership grounds and hopefully being met along the way by players. Having the chance to meet your idols is a huge motivation.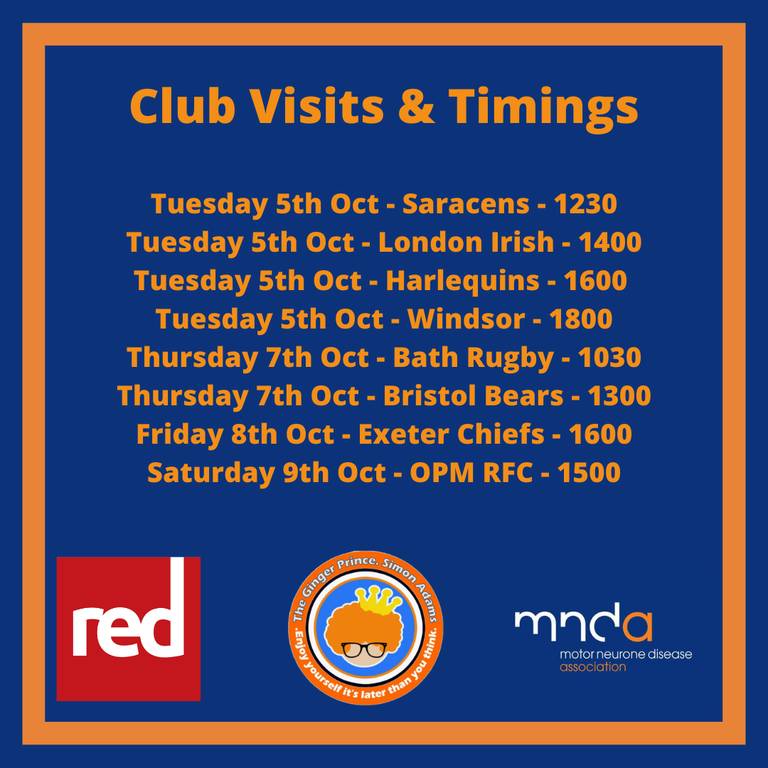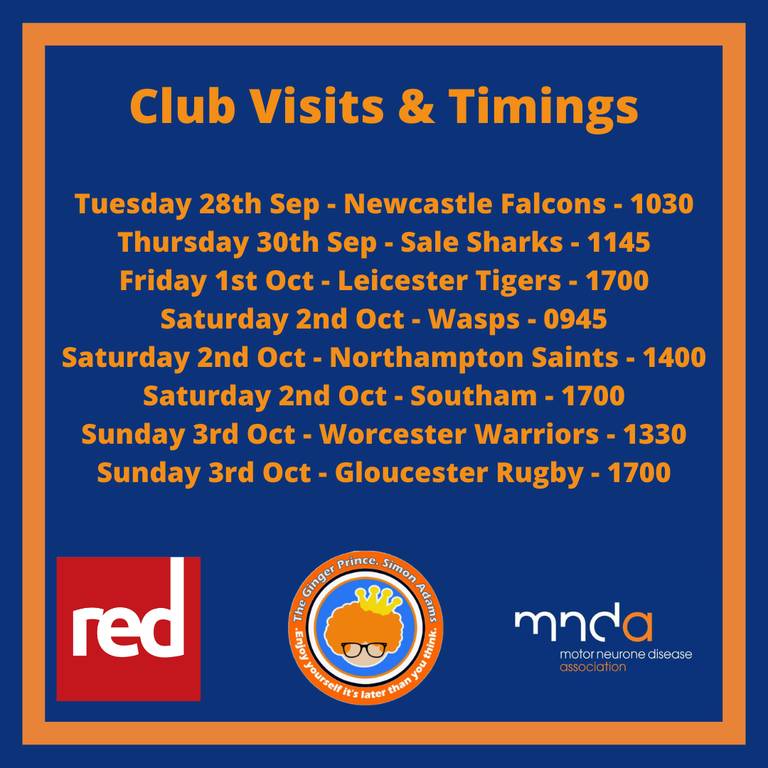 What have been the challenges with the training so far?
Averaging 75 miles a day across 12 days is going to be tough, especially for two rugby playing non cyclists. It's been hard to do more than two long back-to-back rides while working Monday to Friday. We have managed to do a few three or four day training sessions but we've had no way of replicating even close to the whole 12 days. What we have found is that listening to and fuelling our bodies correctly is huge. Ensuring we have the right food and drink available to us really puts us in a good place to clock up the miles.
What is the biggest part of the challenge you're most looking forward to?
Apart from visiting all of the Premiership grounds, I think it's pushing ourselves out of our comfort zones and challenging ourselves to complete something that we really are not built for. Also the sense of achievement and pride once we've finished – and the first pint of course!
What has the response been from Simon's family and friends along with the Rugby Clubs?
The response from the Premiership Clubs have been fantastic. MND is huge within the rugby world and I think this, along with the ride being linked in with the 10 year passing of Simon. The support that the clubs have offered is fantastic, almost all of them are very generously donating a signed shirt that we can auction which is amazing.
Lastly, how can people donate?
We have set up a Just Giving page where people can donate. The address is https://www.justgiving.com/fundraising/tourdeprem1