Return to blog
Garden Camping Planner: 5 Fun Ideas For Camping At Home
Camping
Nature
Outdoor
Posted by Luke Green
If you are unsure about camping and the usual hassle it involves why not try it out in your own garden first? You don't have to worry about carrying too much stuff too far into the wilderness, you still have access to your facilities and if it doesn't go as you pictured, you can always go back inside.
Especially for kids (or even pets), it is a practical approach to figure out if they would enjoy it or not, and a hassle free way to get them used to it. Garden camping can also be a convenient way to try out your camping gear before actually using it for the first time when you are dependent on it. Even if you are not planning on camping anywhere outside your garden, it is a low cost, fun activity that can be enjoyed by both the young and old.
Hopefully, you're sold on the idea of camping in your garden but if not, here are just a few examples of the incredibly fun things that you can get up to.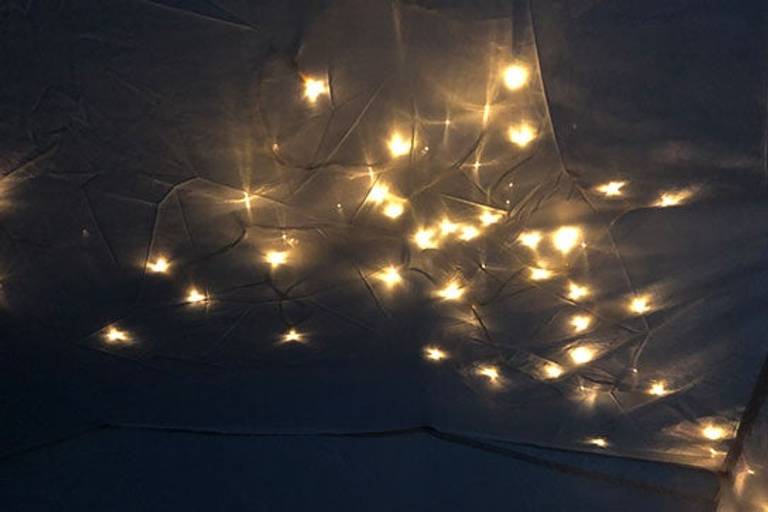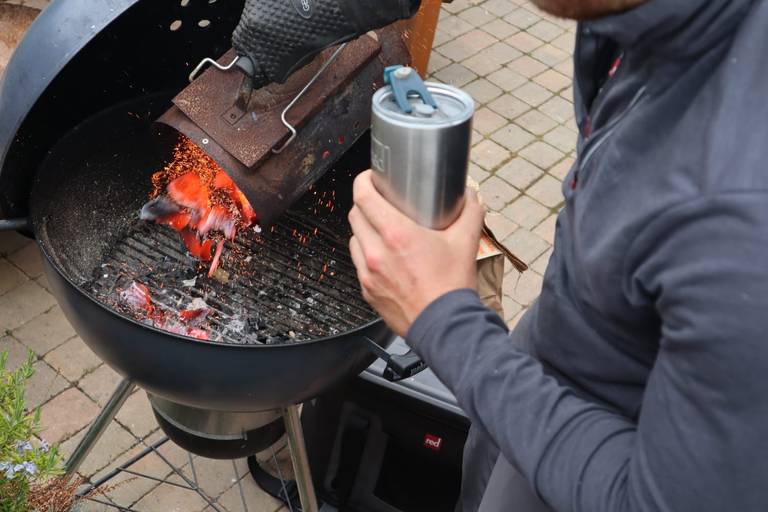 Build Your Place To Sleep
It doesn't matter if you pitch a tent, build a fort or hang up your hammock. As long as you feel comfortable with it and you keep warm enough overnight you can choose whatever you like the most. If the weather conditions allow it you can also sleep directly under the night sky.
Cook Outside
It wouldn't be camping if cooking and eating outside wasn't a part of it. One possibility could be using your BBQ if you own one, but don't be disappointed if you don't you can also create a firepit. You don't even need to create a fancy one. You can even build one out of a terracotta flower pot and aluminium foil but be careful where you place it. Place it on a fire-resistant surface like stone and away from easily inflammable objects. Also always make sure it is supervised, and children and pets stay at a distance. If these conditions are provided you can enjoy your very own fire pit to roast marshmallows and grill or cook whatever you fancy the most.
Test Your Camping Gear
As already mentioned earlier, camping at home can be THE opportunity to test and try your camping gear so that you can get used to it and know what to expect when you are out and about. So why not use a camping stove instead of the BBQ or the firepit and other accessories like an insulated water bottle to keep your drinks warm or cold, or a cooler bag to store your food and keep it cool until you cook it.
Light Up Your Garden Or Sleeping Place
To create a relaxed atmosphere and to create some light when it is getting darker, why not hang fairy lights or glow in the dark sticks around your sleeping place or around the garden. You can take normal fairy lights if you have an extension cord or battery-powered ones if you don't. You can also use these to bring the starry night inside the tent if your little ones need to dose off before the real ones come out. Quick word of warning though, be careful if it starts raining, not all indoor lights are suitable for outside conditions.
Observe The Night Sky
Watching the night sky will always be a fascinating and relaxing activity as well as a conversation starter about philosophical topics. You can identify constellations and if you are lucky you might spot a shooting star that you can wish upon. If you are struggling to identify all of the constellations you can install one of many apps on your phone or tablet like Star Walk 2 or Sky View.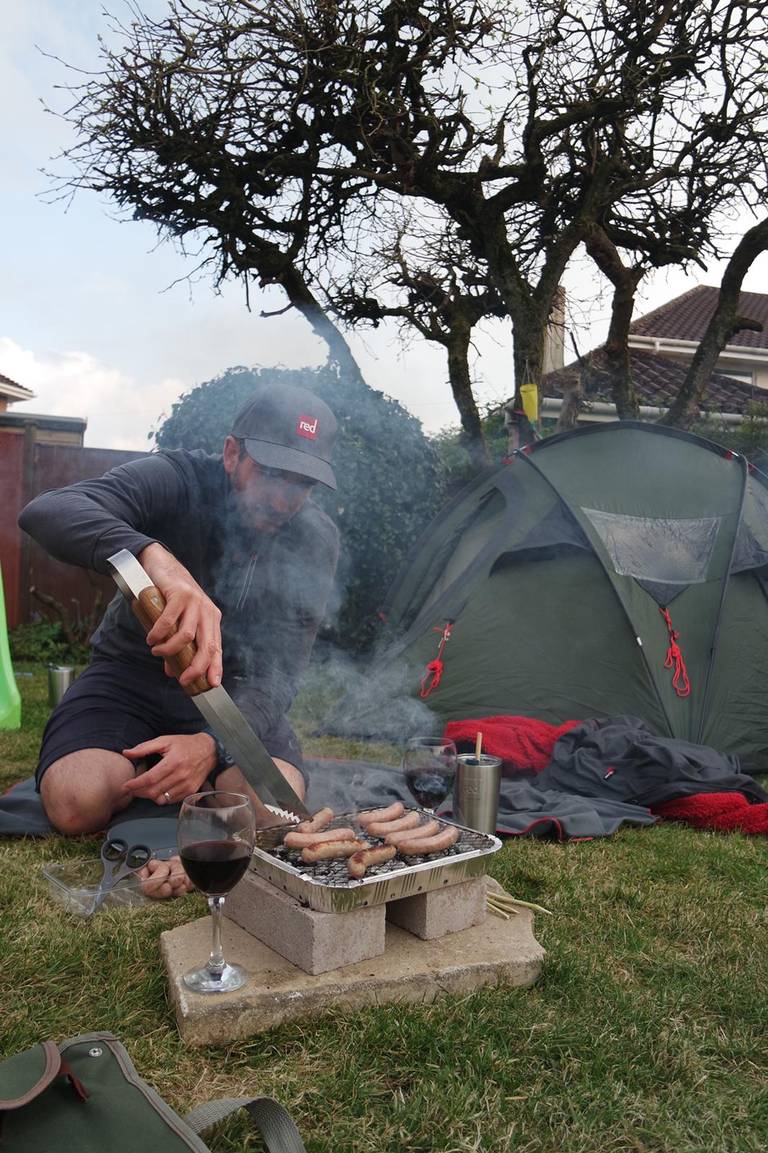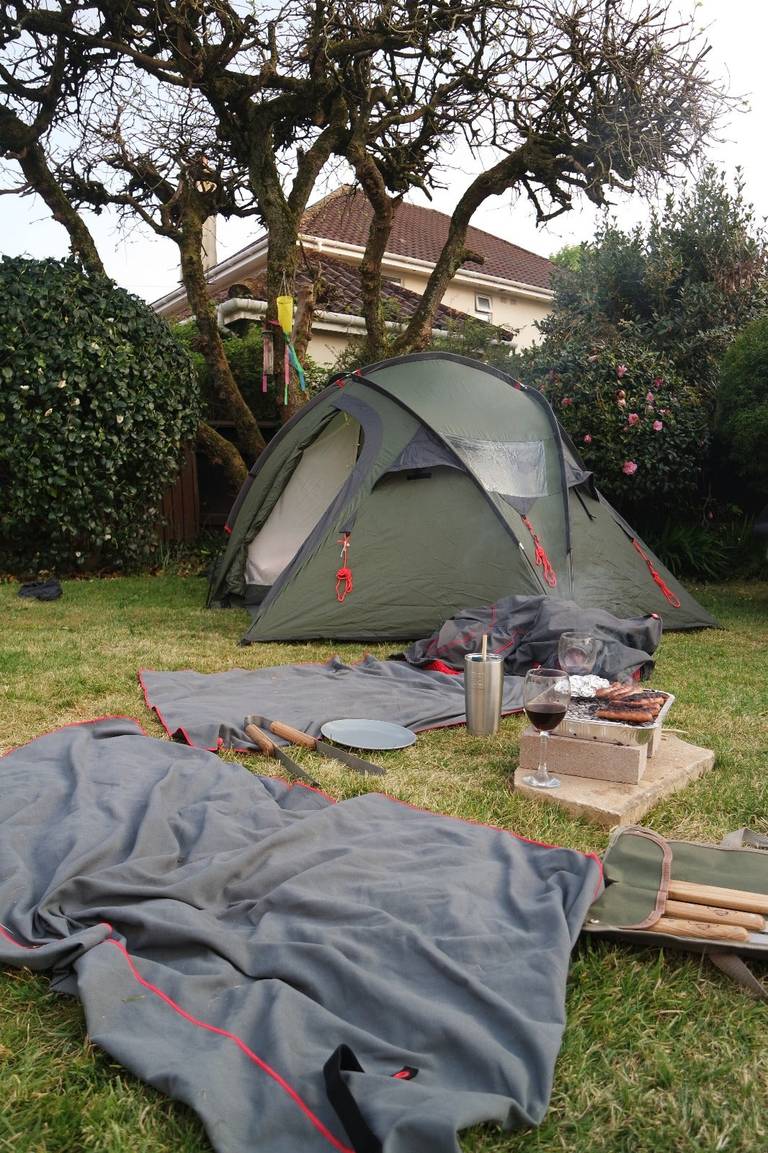 No matter if young or old, camping at home can be a low cost and fun alternative to actually getting "out-out". It is the perfect combination of all the luxuries your home offers to you, and actual camping outside, so why not try it out for yourself?