Return to blog
How To Wash Waterproof Clothing: Red Paddle Co Guide
Posted by Luke Green
Waterproof clothing is a must-have for any outdoor adventurer. This is what enables us to carry on doing our favourite activities in any season, whatever the weather. Whether you own waterproof trousers, jackets, change robes (you name it!), it's essential that you clean them correctly in order to help them maintain their quality.
Before we look at how to wash waterproof clothing using a series of simple steps, it's important to emphasise two crucial points:
Never use ordinary detergent or fabric softeners to wash waterproof clothing. The chemicals in these detergents can break down the fibres of the waterproof coating and prevent it from doing its job properly. With this in mind, it's important to ensure that your machine is free of any detergents before washing waterproof items.If in doubt, you could run a hot wash with nothing in it beforehand in order to clear away any residue.

Do not wash waterproof clothing after every use. Unless it's absolutely covered in mud and dirt, you should avoid washing waterproof items after every use as this will cause the protective coating to wear down prematurely. You can clean up light messes with a damp cloth rather than using the washing machine every time.
Bearing these two key factors in mind, let's look at how to wash waterproof clothing using the following steps:
Brush Off Any Loose Dirt/ Debris
Prepping your clothes is the first stage in how to wash waterproof clothing effectively. Before you start to wash your waterproof clothing, it's important to brush off any loose dirt and debris, such as mud or leaves. The easiest way to do this is by using a soft bristled brush. You should also check your pockets for any loose items and then close any zips and flaps that are on the garment. If you're washing a Red Original waterproof changing robe, we recommend turning the robe inside out before washing. This is to protect the outer shell from ageing.
Hand Wash If You Can…
Wherever possible, we'd always recommend hand washing waterproof items if you can, rather than putting them through the machine. When thinking about how to wash waterproof clothing, the key consideration is ensuring the water-repellent coating maintains its quality. Hand washing is a more delicate method to machine washing (unless your machine has a hand wash option!) and so will always be the more preferable method when caring for clothing with water-repellent properties.
…Or Wash At 30
If you don't have the facilities or time to hand wash, then putting the clothes in the machine on a relatively cool wash (maximum 30 degrees) will work just as perfectly. When machine washing, we'd recommend placing your clothes in a Guppyfriend washing bag. This prevents the pollution to waterways that can be caused when we wash synthetic clothes. The bag prevents pollutant fibres from reaching our oceans and waterways, whilst also helping to protect the longevity of your clothing.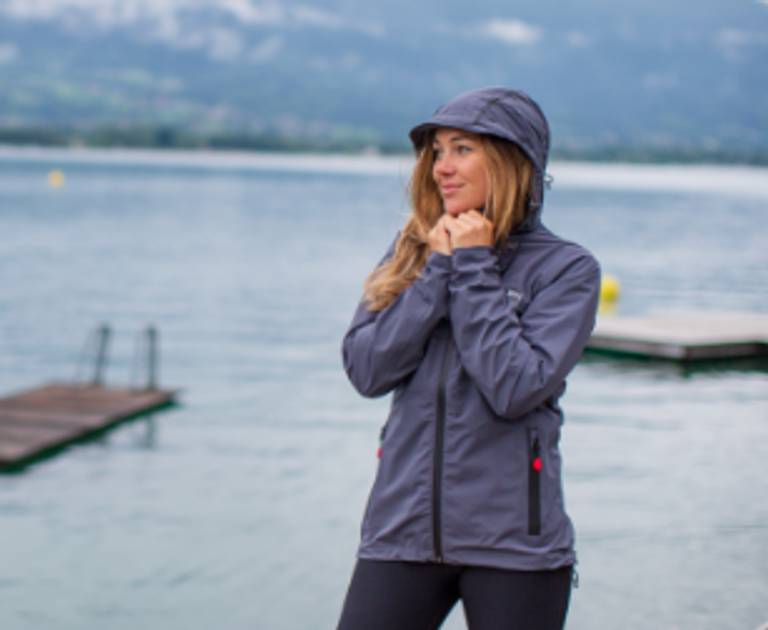 Use Specialist Washing Products
As we mentioned a little earlier on, when it comes to how to wash waterproof clothing correctly, it's essential to avoid using regular detergents. It's essential that any detergent you use is non-bio and free from chemicals. We would always recommend using Grangers waterproofing products, specifically the Performance Wash. This is a product that's been designed specifically for cleaning waterproof clothing and as such is free from any nasty chemicals or residues. You use it just the same as you would with your regular detergent, however it will ensure the waterproofing on your outdoor gear is protected.
Leave To Dry At Room Temperature
When drying high-performance waterproof kit, we'd always advise against using a tumble dryer. This is because exposing your waterproof clothing to direct sources of heat can wear down some of the technical properties that make this performance gear so reliable in tough outdoor conditions. With this in mind, it's best to avoid using tumble dryers or radiators to speed up the drying process, and instead leave the items to dry naturally at room temperature or outside on a washing line.
Reproofing
The final, albeit no less important stage in how to wash waterproof clothing is reproofing. This involves re-applying a water-repellent coating, as the existing coating can start to wear down as you use and wash your clothing over time. You don't need to reproof the clothes every time you wash them, however if you notice that the fabric is starting to absorb rather than repel water, this can be easily fixed by topping up the waterproof coating with a reproofing product. We would recommend Grangers waterproofing coatings. We've tested these brand's products to make sure that they are 100% suitable for Red Original waterproof gear.
With your favourite outdoor gear looking clean and shiny again, all that's left to do is get back out there and enjoy some new adventures! In the meantime, if you have any further queries regarding how to wash waterproof clothing, please don't hesitate to get in touch with us.