Return to blog
Meet Buoy Water Club, a new kind of outfitter
Posted by Jordan Curet
Join us as we get to know Buoy Water Club, a Self-service paddle share, geared toward making being on the water a daily practice.
Q: What is your story?
Well, I suppose being brothers makes the story start quite a while back, though Buoy Water Club started to grow roots in 2020. It's funny to think what led to Buoy. I think surfing, being entrepreneurial, and having a deep sense of gratitude for the environment slowly began to weave together, and present ideas. We've always been throwing ideas around, about what we could create together. I (Bubby) am the one who has a ton of ideas. I throw them at the wall and see which stick over time. Scout, the older of the two of us, is more methodical. He sits with ideas for longer. In 2017, we began to take steps toward creating what we imagined to be a 'gear share' program. We loved what bike share offered in regard to accessibility, and were inspired by a business model based on sharing rather than personal ownership. But the timing wasn't quite right to give it the attention it needed. Scout was working for Outdoor Voices as their sustainability lead, and I was still in school studying industrial design at Pratt in Brooklyn. After I graduated, Scout and I planned to bike from California to Colombia over 3 months. Friends thought we were crazy. Then Covid hit, and we were living at home in Santa Barbara together, hiking, surfing, planting gardens and reading a lot. Colombia was postponed, so naturally, the idea of the 'gear share' program resurfaced and we really dove in. We came to identify what we are passionate about is promoting a healthy relationship to earth's waters, the sharing economy/collaborative consumption and designing beautiful spaces and experiences. Now, over two years later, we have designed and developed self-service paddle share lockers for paddleboards, surfboards and kayaks. It's like bike share but for water sports. All you have to do is download the Buoy Water Club app, grab a RED paddleboard and paddle, then return it to the same location after paddling.
Q: Do you host any events/activities involving the paddlesports community?
Although our model is self-service, we are all about cultivating community. Being a new project, we see this taking time but are very excited to help develop strong local paddle scenes at each location. We see our lockers becoming local hubs, where water people can gather. This coming spring, we'll be hosting weekly group paddles led by our local paddle teammates, and SUP polo tournaments a few times throughout the summer.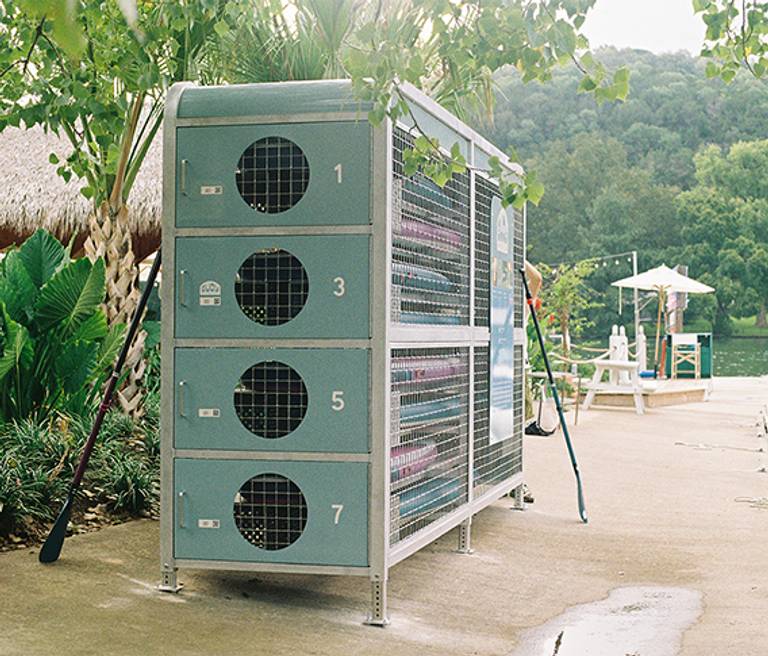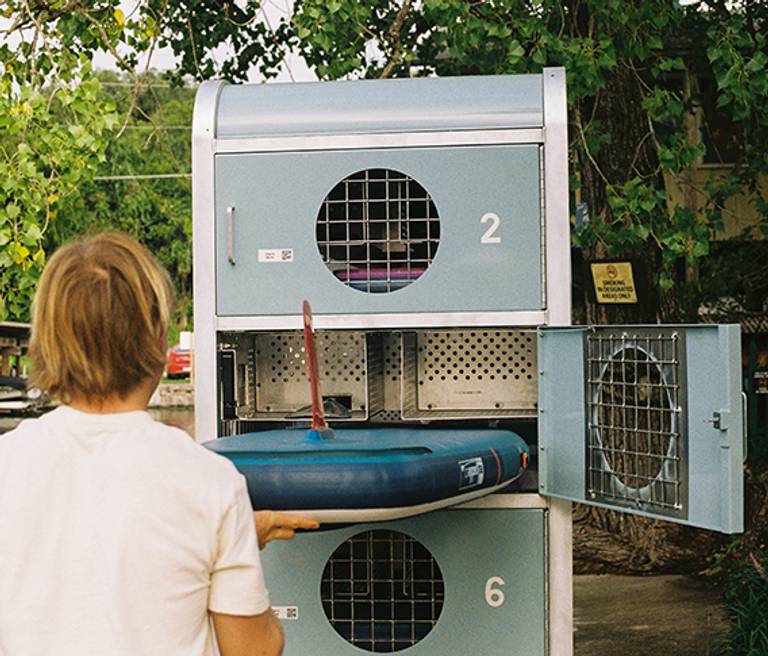 Q: Why the name Buoy Water Club?
This project is one we see growing alongside for many years. So for it to have longevity, we knew the name had to encapsulate what we imagine Buoy growing into. Buoy's mark places of value and are used to inform boaters for navigation, mark dive sites, measure wave height, and much more, all related to our relationship to the water. We want our lockers to act similarly. They will notify and remind people that this is a place to access the water, a place to paddle, surf or kayak. As for the evolution of Buoy, we will be water focused but not limited to the paddle share lockers. Our North star is designing and building clubhouses. A Buoy Clubhouse will be a physical place to meet friends before a paddle, enjoy our communal bath or sauna, or relax and enjoy a hot tea on a brisk morning.
Q: How do you see Buoy influencing the paddle sports industry?
We believe there are paddlers out there that haven't found a love for paddle sports yet. There are a multitude of obstacles that stand in the way of people trying the sport. We see an opportunity to remove obstacles in order to participate in paddlesports, opening up the sport to new demographics. So, to the people who don't have storage space in their apartment, who can't lift a kayak or paddleboard on your car, who don't have a car, who don't want to inflate and deflate their board every paddle, or for anyone who wants to walk or bike to the water for a sunset paddle, we have a solution for you.
Q: Is there any information that is relevant to our readers?
Our first locker location is in Austin Texas at Ski Shores Cafe. Santa Barbara and Seattle are coming soon! We are currently looking for more locations, primarily along the west coast. If you have a location in mind, be sure to reach out!
Ski Shores Cafe is worth a visit! It's a great lakeside restaurant with delicious food (https://skishorescafe.com/), boat docks, a pickleball court, and of course a Buoy locker.
Our prices are $25/hr or $88/month (this includes the board, paddle, and PFD)
If you have a friend in Austin, send them our 'first paddle free' code: dailypaddlepractice
A last word:
It is our goal to make being in the water a daily practice. We understand that at times, owning your own equipment is much more convenient but for those people who live in small apartments, rely on their bike for transportation, or just aren't quite ready to pay for an expensive SUP, we offer an alternative. Often the rental experience prioritizes function over performance, and rigidity rather than flow. This is why we chose to provide RED paddleboards - in our experience they are the best quality inflatable boards on the market. We make no compromises in providing high performance equipment, and are excited to make getting out on the water a bit easier.
-Bubby and Scout Vernon
@buoywaterclub
Buoywaterclub.com
Hello@buoywaterclub.com