Return to blog
South Island SUP: Exploring Victoria and Beyond
Posted by Jordan Curet
We sat down with Victoria's first mobile SUP business to learn what they are all about.
Q: Tell us a little bit about South Island SUP.
A: We are a mobile business doing tours, rentals and lessons in Southern Vancouver Island. I do a lot of custom events, corporate team building, local tours year round. Probably the only year round SUP business in Canada. I have a lot of local customers very strong large local customer base that do a lot of the year round paddling. Up to 100 times a year some of my clients. So that's part of my business but I also cater to tourists, really anybody on Victoria island. Everything from first time paddlers to Expert level for short but pretty adventurous day trips including instructions. And SUP Sufing as well in Tofino but mostly on our beaches west of Victoria.
Q: How did you personally get into paddle boarding?
A: So I I first saw it in Hawaii in 2011 and first person I saw SUPing was on an amazing wave in I guess on Kauai, in Hanalei bay. It was summer, small wave but you know beautiful wave that looks like it went on forever and the person was just like it looked like a kilometer but it was probably wasn't that long but they were on the wave forever. So I came back here, bought a board, and started learning, and then tried to figure out how I could make a living doing that. So I sort of gradually got myself transitioned from working full time to running a business full time. One of the unique things is I started with my business with no car. I had a bike that I would pull three boards behind and I lived near a beach so I could meet people at that beach and I also used to paddle multiple boards to an adjacent beach if I need to. I would just pull the boards behind me to that beach.
Q: What makes South Island SUP unique?
A: I think the fact we have year round paddling. Not to mention being a mobile business without a vehicle. And we definitely see wildlife all the time. We see wildlife that people love to see and then every so often we get to see a whale, and sea lions quite frequently. We get Harbor porpoises, which are pretty exciting too. Victoria also has so much shoreline and so many islands and it's often overlooked. It literally is incredible paddling from my doorstep, and almost everyone in Victoria lives within 10 minutes of the ocean. That's one of the things I really resisted was having a permanent dock location or permanent storefront because I want to shift around to all the locations like there are about 30 locations that I frequent in the area based on weather, currents, the wildlife is coming through certain time of the year so I'm always shifting. But I'm never more than 2 hours from my house. 90% of my business is within five kilometers of my house so that's another unique thing about my business - a very low carbon footprint.
Q: Tell us about the paddling club?
A: We have a paddling club which links back to the number of locals who paddle with us. So people who are members get 50% off of all the tours, rentals, lessons and I have clients who have been in the past gone up to 100 times in a year with my business. We also have the Victoria SUP Challenge, a local race. We hold it at an ocean location with several distances. We had 12K, 6K, a relay race, and some a 1K technical courses. It brings out paddlers of all levels, everyone finished and they had a great time doing it.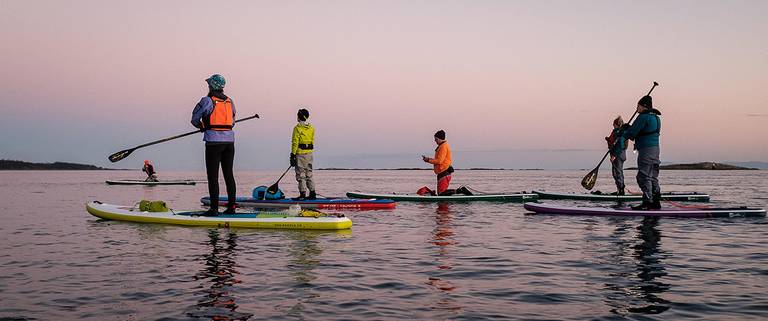 Q: And will you bring that back next May?
A: Yeah, we may do a lake location next year but we're definitely doing the Victoria SUP Challenge again. We used to do 6 races a year but were gonna have to build back up to that. Its the only thing in my business, or one of the only things in my business that was effected by COVID.
Q: Why do you choose Red Paddle Co boards?
A: So I used to have all hard boards and tried Inflatables probably close to 10 years ago now and I thought they are just not very good. And a friend of mine kept talking about how good Red boards were. And I'm a Paddle Canada instructor so I got a discount on on Red boards and I thought well I should check it out I should see if I can get some of them. Now I have almost every board Red makes. I take different people out, some people are new and some people are trying to go fast and some people are going to go on long tours. They are also tough boards. Everybody who has used the boards likes them. There's a good assortment of boards and sometimes new boards come out that fill the niche that was missing. I know I've provided feedback on boards I'd like to see and it seems like they end up coming into production, so that's really good. It's nice to be a part of the business.
Q: South Island SUP offers a bunch of tours, which is your favorite?
A: It is hard to pick! It's partly the location, but I do a tour called Wild West Coast Experiences some of my favorite days have been in that Port Renfru area. There are lots of caves and arches, wildlife, and lots of waterfalls when its raining. It's just one of those places that is what the West Coast is all about. I usually do those in the fall and winter and there is literally no one else on the ocean. It's remarkable when you feel your like you're in the wilderness to that extent - it's quiet, there's no noise, there's nothing going on. It's two hours from Victoria. Theres no boats even on the water. Its just really great and the beaches are spectacular and just the coast line there is realy unique for our area.
Join A Red Ride Out
Do you want a chance to paddle with South Island SUP? Join us for 2 days of SUP adventure on the West Coast of Canada! We are planning on paddling in the Sooke or Port Renfrew areas on day 1 and closer to Victoria on day 2. Our locations and timing could shift depending weather, sea state, and group experience. You will be able to paddle the rugged islands and coastlines, watch for the abundant sea life, and meet great people. Who is this for? Anyone with a sense of adventure! We plan on keeping the tours at a recreational to intermediate level. You should have some SUP experience and be able to paddle at an average of 2-3km/hr in choppy water with some wind (we plan to paddle in areas protected from strong winds if necessary).