Return to blog
The Red Guide To Surviving Winter Triathlon Training 2022
Posted by Luke Green
With shorter days and colder weather to contend with, it can be hard to keep up with your usual triathlon training schedule during winter. However, with the right tips and techniques, winter triathlon training doesn't need to feel like a chore. These are just a few factors to bear in mind when creating your winter training plan for triathlon:
Set Goals & Make A Plan
Without a winter training plan for triathlon, it can be all too easy to become lost and unmotivated. Taking the time to set up a plan by yourself, with a coach or with friends is a great way to give yourself a goal to work towards. Entering a race in the springtime is a really good way to keep yourself motivated throughout the winter, and the rewards when you complete the race will feel great. Entering a race with friends means you can train together and help pick each other up on the days you're feeling less inspired.
Layer Up
Dressing for winter triathlon training can be a little tricky. You want to keep yourself warm without overheating. When dressing for the cold, your body starts to heat up quickly once you start moving, and so layering is key. Start with a moisture wicking base layer, followed by an insulating mid layer, such as the Red Original Performance Long Sleeve Top for men/women, followed by a waterproof outer shell. Red's Active Jacket which features reflective trim detailing is perfect for winter triathlon training when visibility is reduced, and the chance of downpours is high. A 5k waterproof rating keeps you dry, whilst underarm vents prevent overheating. Don't forget hats and gloves for keeping your extremities warm too.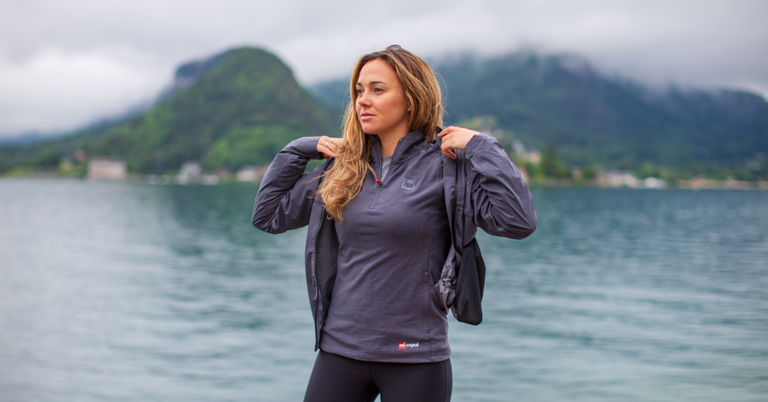 Warm Up As Soon As You Finish
When you stop exercising, your body will start to cool down quickly, which is why it's important to change out of any damp clothes as soon as you can after your training session. A waterproof changing robe is an essential piece of kit for winter triathlon training. The moisture wicking fleece lining of Red's Pro Change Robe Evo or Revolution Robe, helps you warm up and dry off in super quick time, whilst enabling you to change outdoors discreetly and without any hassle. Pair this with a nice hot beverage of your choice in a thermal flask, and you'll be able to keep yourself toasty and warm as you enjoy that post-training glow.
Make Yourself Visible
One of the biggest challenges of winter triathlon training is reduced visibility. In order to keep yourself safe when training in these conditions, it's crucial to make sure that you're making yourself clearly visible. Look out for clothing and accessories that have reflective elements, such as our Waterproof Backpack which has a safe reflective logo for high visibility in low light conditions.Reflective ankle/wrist bands are also really useful. If your route isn't very well lit then it's also worth investing in a head torch to ensure you can see clearly where you're stepping or cycling.
Stay Hydrated
When the weather's colder it can be more tricky to remember to stay hydrated. This is due to lower sweat rates and cooler temperatures suppressing your thirst. However, it's just as important to stay hydrated when exercising in winter as it is during the summer. With this in mind, make sure you've got plenty of water with you to stay hydrated during and after your session. On particularly cold days, a really useful hack is starting with a heated sports drink.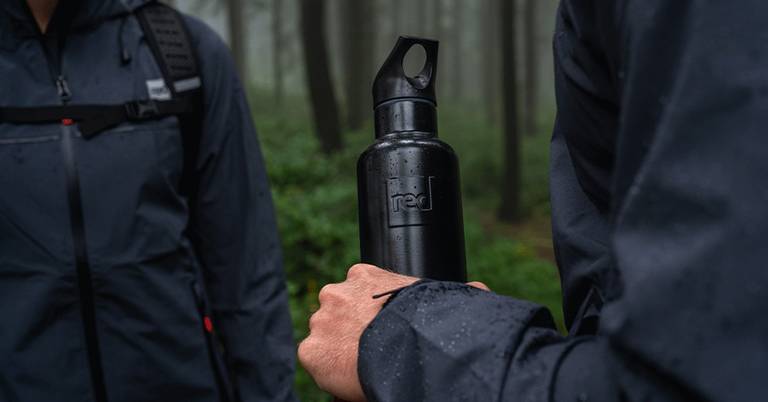 Use Winter To Build Strength
During the summer when the focus is on swimming, biking and running, weight training tends to get neglected. With this in mind, winter presents the perfect time to focus on building strength. Triathlon winter strength training can be done indoors, helping you avoid the chilly weather outside. It's a nice change to focus on something a little different, and the strength training you put in will significantly help to improve your overall performance on the bike, in the water and on your runs. Lifting weights is a great way to get some extra power on the bike whilst pilates ball exercises are perfect for building core strength.
Find A Group To Train With
Of course you certainly don't want to neglect your biking, swimming and running during the winter, and joining a training group is a great way to keep up with these. Exercising with a group makes winter triathlon training more fun and sociable, helping you stay motivated on the days you're feeling less up for it. It also helps you to push yourself to better your performance, whilst enabling you to pick up tips and tricks from fellow triathletes.
For more tips and gear recommendations for winter triathlon training from Red, please don't hesitate to get in touch with us.