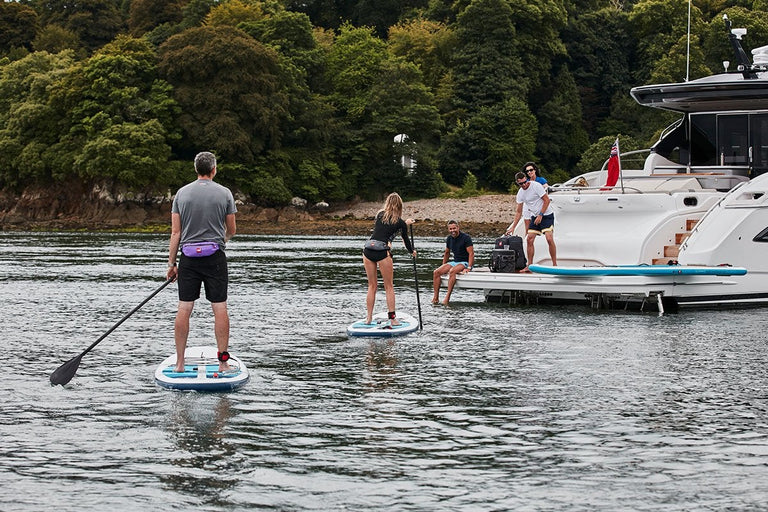 Return to blog
Get SUP Safe this Summer!
Paddle Boarding
Posted by Ross Montandon
The daylight hours are now getting longer, the water is getting warmer and we're already optimising those longer days, itching to get out and make the most of what day light we have. Here at Red Original the team have already been out for pre-work paddles and evening SUP tours! So to help you get ready for the season of SUPing we've put together some of our top paddle boarding tips and accessories to keep you safe on the water!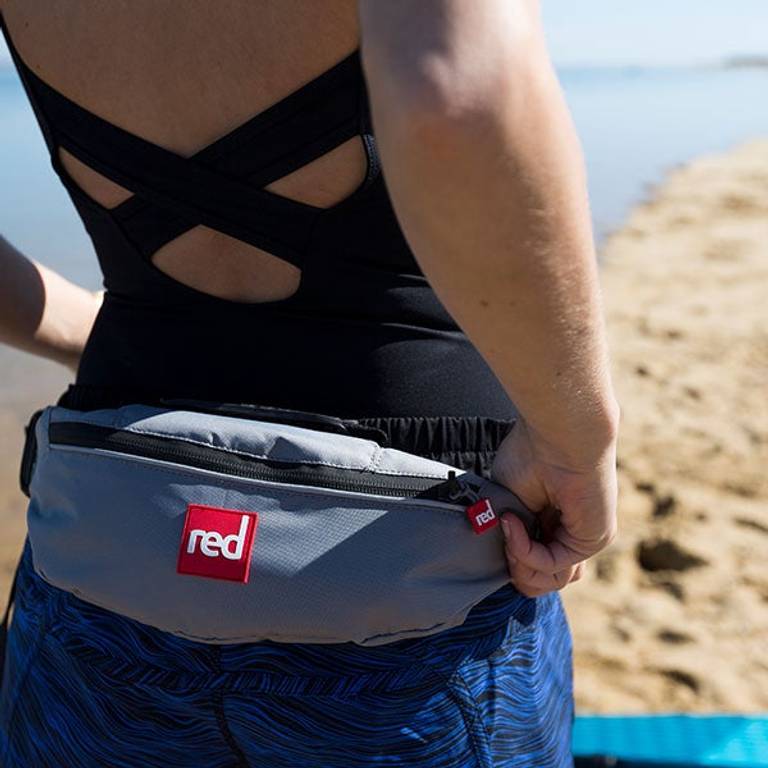 Staying Safe on the Water
Whilst the joys of paddle boarding are many, be it an evenings paddle on a calm lake, or day at the beach with the kids. Regardless of where we're paddling, staying safe on the water is essential. Whether you're going for a quick after work paddle or you're heading out for the weekend we must always ensure we have the appropriate safety equipment with us. After all you wouldn't drive a car without a seat belt on or ride your bike without a helmet. Paddle boarding is no different!
Airbelt PFD (Personal Floatation Device)
Buoyancy aids and life jackets can be bulky, hot and really restrict the mobility for paddling. Not forgetting after all, you want to catch some rays and work on that bronzed tan whilst out on the water! The Air Belt pfd enables you to stay safe on the water without impacting with the paddling experience. The small, one size fits all, bum bag style waist belt fits neatly around your waist, and the easy quick clip and go function allows you to enjoy paddling without getting tangled in straps.
The Safest SUP Accessory
The Airbelt is easy to deploy, with a quick pull on the top handle reveals the bladder allowing you to place this over your head in the same way to airline life jackets. You can then pull the tab which triggers the 16g CO2 canister to fill the Air Belt up without any neck adjustment required! The Air Belt can be topped up topped up by blowing in to a valve. Once used the canister can be replaced easily ready for next time! If yo
Waist Belt Leash
If you paddle a lot in fast moving water (such as rivers or white water) there may come a time where it is necessary to separate from your board. With a waist belt leash you can attach your normal ankle leash to the belt and turn this into a quick release system. In the unlikely even of an emergency you can pull the easy to reach toggle at any time to quickly separate yourself from your board, putting you in control at all times.
When using this system it's important to also be wearing either a waist belt pfd or buoyancy aid so you can stay afloat whilst swimming to safety. The sleek and minimal design of the waist belt leash means that it can sit comfortably under any personal floatation devices.
Take Your Phone with you!
We all know electronics and water simply just don't mix, however mobile phones are a great way of raising the alarm should you get into trouble.
The Dry Pouch fills this void on two accounts, both keeping water, dust and dirt out. The extra internal foam padding protects from drops, knocks and all those usual accidents that occur when out on adventures. The 100% waterproof YKK Aquaseal Zip keeps the contents dry and safe whilst the Armour tech fabric can withstand anything you wish to throw at it!
To attach, the Dry Pouch comes with heavy duty Velcro attachments allow you to simply strap on to carry handles and Deck Bag or Watertight Cool Bags.
The Perfect Changing Robe for a day at the beach
Outdoor sports are so varied and allow us to explore many un-tapped corners of the World. These adventures do at times make changing very tricky, whether you're down at the beach or perhaps going for a more urban venture. The art of getting changed discreetly and comfortably is a real challenge. The Luxury Towelling Robe covers all areas both providing you with plenty of wriggle room to get changed whilst keeping your modesty in tact. The soft towelling fabric is perfect for drying you off in a flash and getting changed quickly. The large pockets and drawstring hood makes the Luxury Towelling Robe the perfect snuggling down item after any day out on the water or beach day.
Sun Protection for Paddle Boarding
Paddle boarding can be deceiving when it comes to sun exposure as being by the water gives the impression, we are cool. However, we are affectively paddling on a large mirror reflecting the UV rays from the sun straight back at us. So even on those overcast days if you're out on the water for any length of time beyond 20 minutes, you want to consider protecting yourself.
Paddle Cap
The simplest and quickest way is the paddle cap, this keeps the sun off the face and can reduce the strain on the eyes on those sunset paddling sessions when the sun is low. The Red Original Paddle Cap is designed specifically with watersports in mind. The quick drying fabric featuring breathable invisible ventilation allows heat to escapes well as protect against UV rays.
Sunscreen
It goes without saying sunscreen is a must have for any day on the water. There are so many to choose from it can take a little while to find one that fits your needs but there are a few things to consider. Make sure your sunscreen has at least 4-star UVA protection, this means it meets EU standards for sun protection. Also consider the level of protection, if it's the first outing after a dark dank winter you will need to use higher SPF protection to ensure you don't end up a pink lobster. Another top tip is to check how old you sun cream is, how often do we just lather up with whatever we have in cupboard? Most sunscreens have a lifespan of 2-3 years.
Eco Friendly Sunscreen
We are all trying to do our bit to protect our wonderful environment. Recent studies have shown that chemicals oxybenzone and octinoxate have proven harmful to reef life. So much so they have banned all products containing the chemicals in Hawaii. A few environmentally friendly sunscreens currently available include Sun Bum, Blue Lizard and Raw Elements.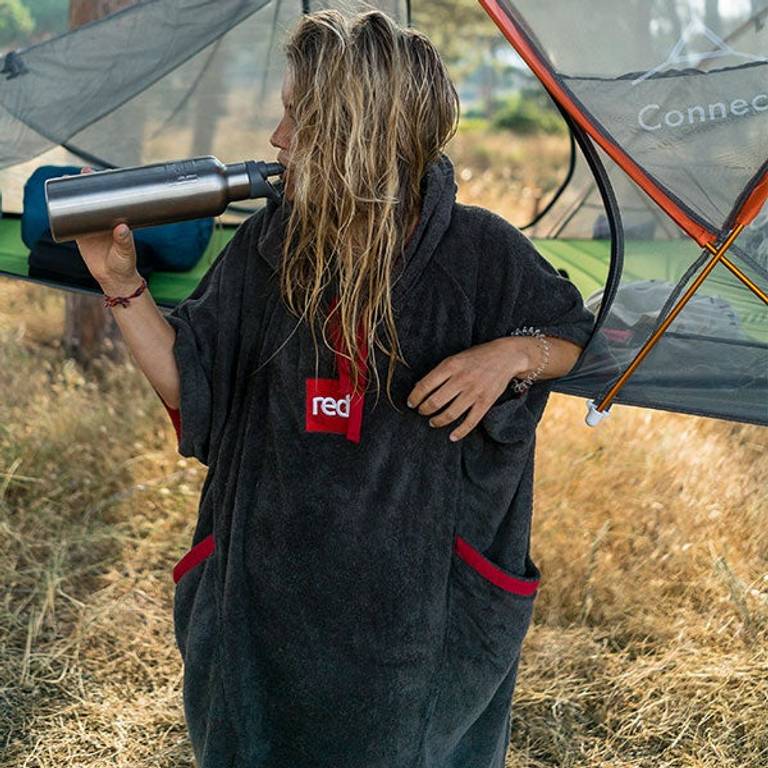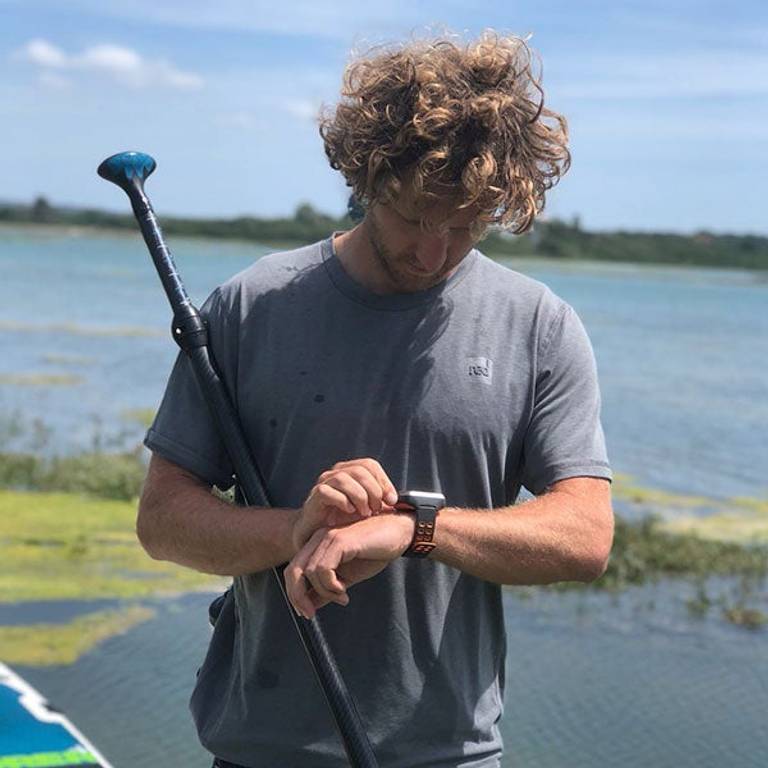 Sunglasses
We've gone through a few pairs of sunglasses here at Red Original HQ. Eye protection is well worth investing in and there are a few things to consider when picking up a pair of sunnies!
Polarising Lenses
The polarising lenses prevent glare which is perfect for snow and watersports but not all sunglasses have them, even some premium brands so check the label before purchasing.
Sunglasses are also very fragile so consider the strength of the frame and whether the small components can handle sand and saltwater. If you're looking for something a little different there are several brands producing bamboo frames which are pretty snazzy as well as being good for the environment. You may also want to pick up a leash to keep your sunglasses from falling off.
UV Protective clothing
One of the best ways to protect against the prolonged sun exposure is to cover up. Our Performance T-Shirt protects up to 50+UPF which is perfect protection on the back and shoulders which are usually those hard to reach spots with sunscreen. The quick drying performance t-shirt is perfect if you're hopping from the paddle board to the coffee shop and is casual enough for day to day use.
Finding What works for you
The great outdoors is an incredible tutor and it takes time to find what works for you and your needs. If you ever have any questions or just fancy a chat about your adventures feel free join the chat on our facebook and Instagram page!