Return to blog
Can Dogs Go On Inflatable Paddle Boards?
Posted by Luke Green
Many of our canine companions love spending time at the beach and around the water, but can dogs go on inflatable paddle boards? You'll be pleased to hear that the answer to this question is a definite "yes!". Dog owners are often concerned that their four legged friends might "pop" or damage an inflatable paddle board with their claws, however this is completely untrue. It's a myth that inflatable paddle boards are flimsy and unreliable. In fact, a high performance inflatable paddle board like a Red Paddle Co board is a lot more durable than a solid SUP.
Why Can Dogs Go On Inflatable Paddle Boards Made By Red?
Dogs are a big part of the family here at Red, and we often enjoy taking our dogs out on our SUPs with us. The durability of a Red SUP ensures it is unrivalled in reliability, safety and performance, but it also makes it a dog friendly paddle board. The durable design is all thanks to the innovative technology we use to make our boards. Each individual board takes 72 hours to make using our exclusive MSL technology which uses high density structural PVC and a super reinforced dropstitch. We've even driven over our boards with a 22 tonne digger to ensure they're up to our meticulous standards of durability - if it's tough enough for a digger, it's certainly tough enough for a pooch!
So we've established that the answer to the question "can dogs go on inflatable paddle boards" is a definite yes. The next question is, how do you get your dog on an inflatable paddle board safely?
How To SUP With Your Pup
In order to take your canine companion safely out on the water with you it's important to consider the following key factors:
1. Give Them A Buoyancy Aid
You might be thinking, does my dog really need a buoyancy aid? Whilst your dog might love the water, putting them in a dog buoyancy aid significantly reduces the risk of drowning, as well as reducing the severity of common accidents. It provides you with reassurance and gives your dog added confidence in the water should they start to get tired. Our Dog Buoyancy Aid is designed to help dogs maintain a comfortable swimming position and features reinforced grab handles so that you can easily lift your dog out of the water and back onto the paddle board.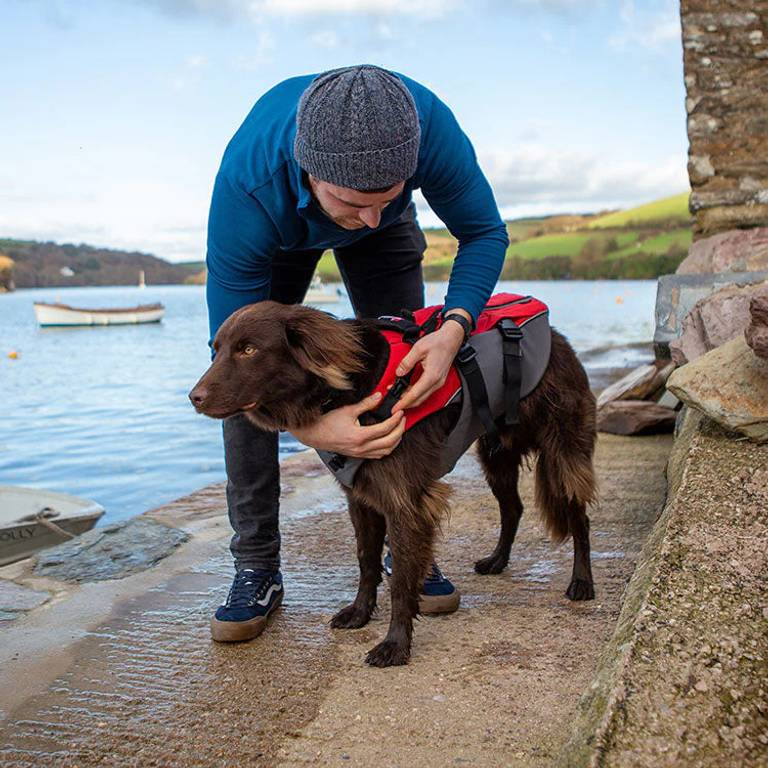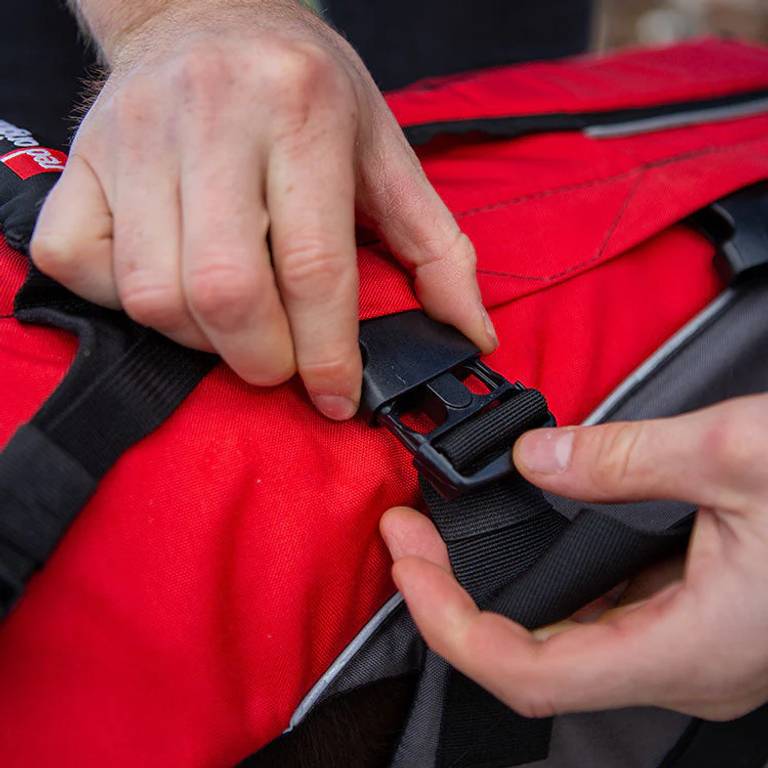 2. Get Them Familiar With The Board
When setting up your equipment, encourage your dog to have a good sniff of the board and get familiar with it. Whilst still on land, get your dog to hop on the board and walk over the deck - some tasty treats usually help with this. Practice hopping on and off the board a few times until they're familiar with the feel of the deck under their paws.
3. Ease Into The Water Slowly
When discussing the topic of "can dogs go on inflatable paddle boards", it's important to emphasise the importance of taking your time with it.You can ease your dog into SUPing on the water by placing the board half in and half out of the water, and using a treat or toy to encourage them onto the half that's in the water. Once you're both more comfortable in the water, you can start to paddle on your knees with your dog in front of you, staying close to the shore, so the dog can keep hopping on and off until you're both comfortable enough to embark on longer adventures!
For more guidance on taking your dog on an inflatable paddle board, please don't hesitate to get in touch with the team at Red.