Return to blog
Why Our Compact Paddle Board Is So Loved
Posted by Luke Green
Half the size to carry and store, but double the fun, our compact inflatable paddle boards fold out to full size SUPs, providing unlimited opportunities for adventure. All Compact boards come fitted with a comfortable carry handle, adjustable cargo system and removable click fin system to allow the ultimate 'packability' of the board, and are available in the following 3 sizes:
The 9' 6''
One of the most transportable paddle boards on the planet, folding down to half the size of a conventional inflatable paddle board, this is an all-round board that's based on the award-winning 10'6" Ride MSL. The 32" width and round nose profile gives increased stability and offers a smooth and predictable ride
The 11'0''
Ideal for paddlers who are looking for the next step in performance and speed, this Red compact paddle board is modelled on our Sport range, featuring all the innovative features of a fast and responsive Red inflatable SUP, just smaller to carry and store!
The 12'0''
The perfect adventure companion, this is a touring addition to the compact range with a longer length and drawn-out shape to enhance glide. This is ideal if you're planning to cover longer distances.
These are just a few of the reasons the Red compact paddle board range is so popular.
Ultimate Portability
Transporting a Red compact paddle board is as easy as carrying a small backpack (literally). The sup fits perfectly into a custom made board bag in a compact and convenient size. This is all thanks to the MSL PACT material that's made from specially produced, high density drop stitch that allows the board to fold in half more easily before being rolled up (without compromising on stiffness or durability at all). The compact paddle board backpack itself is highly engineered to offer exceptional shoulder and back support, with unique opportunities for adjustability. The bag applies approximately 53% less downforce on the carrier's lower back , with customisable lumber support. These features combined with the lightweight nature of the compact paddle board itself, make transporting your Red SUP an effortless experience, whether walking on foot, or travelling by plane, car or boat!
Unlimited Opportunities For Adventure
The benefit of the compact paddle board being so portable is that it provides so many more opportunities for adventure. With the compact SUP being so lightweight to carry, it's easy to access more remote locations, and take your adventures off the beaten track. After throwing your SUP on your back, you'll have plenty of ability to carry extra kit. An accessory mount and additional cargo points on the board also provide a secure space for attaching a SUP deck bag, waterproof cool bag and other luggage, if you're planning a multi-day SUP adventure. Really, you can take a Red compact paddle board anywhere, whether you're sailing, flying, walking - you name it!
With its light weight and amazing ability to pack up to such a small size, my 11' Compact series RED paddleboard is the absolute perfect complement to my sailing adventures and allows me to access places I would never otherwise be able to visit so easily! As a freediver and underwater filmmaker, high quality tools such as these are absolutely indispensable to letting me capture the incredible imagery needed to share the incredible landscapes I am so lucky to visit and document.
Brian Hockenstein, Filmmaker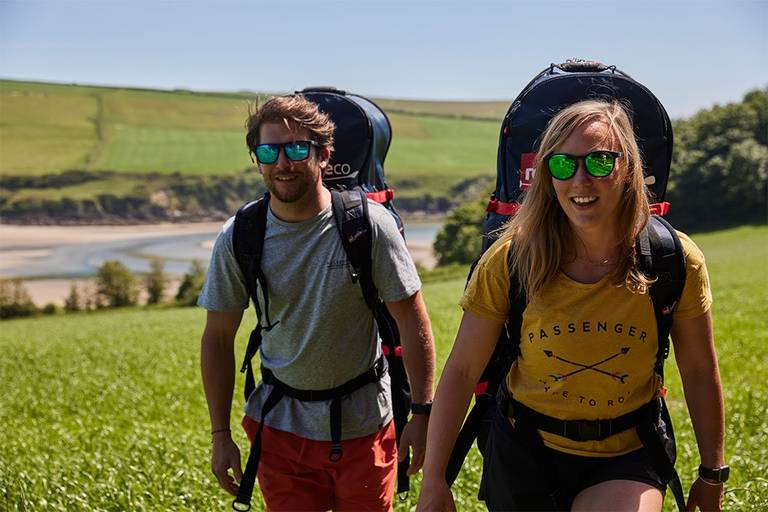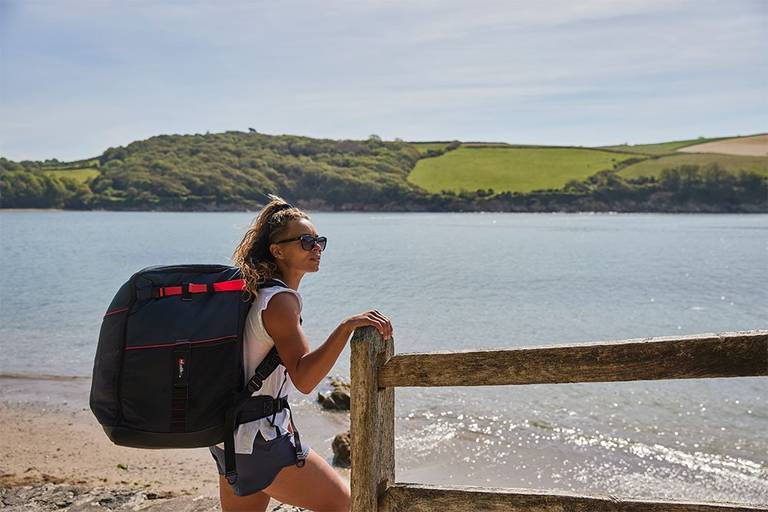 Minimum Storage Space Required
Easy to fit into the boot of the car (or on a boat), this SUP is perfect for when you have a lot of other gear to transport, as it won't take up much space at all. For the times when you're not out and about, this means that the SUP is easy to store at home. It's okay to leave your paddle board inflated from time to time if you're using it regularly, however if you're planning on storing it for a longer period of time then it's best to deflate the board. If you're not storing your paddle board in the bag, then it's important to store it out of direct sunlight, as extended exposure to direct sunlight can cause the colour to fade.
Same Red Quality
It might be smaller to carry and store, however the Red compact paddle board remains unrivalled in durability, safety and manoeuvrability, just like any other Red board. Folding out to a full size paddle board, the compact range uses our exclusive MSL technology and RSS batten technology that we've been using since 2008. All boards are manufactured in our very own private facility, to ensure every single SUP meets our discerning standards of quality and safety.
I love my Compact 12' because it's a solid board that tracks very well and packs down, smaller than a traditional inflatable SUP without sacrificing quality. And, someone my size can easily carry the board on my back! Perfect for those urban adventures or more remote, off-the-beaten-path kinds of missions. Or, for bringing your German Shepherd out!
- Diana Lee, certified SUP instructor, outdoor adventurer and librarian.